1983 World Communications Year (WCY)
On 19th November 1981 the United Nations General Assembly adopted Resolution 36/40 proclaiming 1983 as "World Communications Year"
Telecommunications
In the Solomon Islands this was a period of rapid development of communications infrastructure. Commissioned for independence in 1978 the Honiara Intelsat Earth Station operated by Soltel / Cable & Wireless provided links to the outside world. The domestic telecommunications operated by Solomon Islands Government P&T comprised a number of old Strowger switches but outside of Guadalcanal these were linked in the main by a manual HF radio network plus a few UHF FDM links. The early 1980s saw an EU Development Fund program to provide a new Honiara main switch and ISC ( NEC NEAX61) plus a number of rural switched (GEC UXD5) bringing International Direct Dialling to Solomon Islands.
Amateur Radio
The young Solomon Islands Amateur Radio Society was keen to become involved in World Communications Year and to publicise ham radio in Solomon Islands. Public Amateur Radio demonstrations were given and an attempt made to gain as much media interst as possible. As principal Training officer at the time my job involved recruiting new trainees. A particularly exciting rip was to Goldie College - a Solair flight and then a trip across the lagoon from Munda. Apart from the Telecom talks I took my ham radio and let students talked to the world:-)
Of course it was exciting times for Ham Radio:
| | |
| --- | --- |
| | Solar Cycle 24 was continuing to yield exceptional propagation conditions |
| | The first amateur radio operation from earth orbit took place aboard Space Shuttle Columbia STS 9 |
| | The European Space Agency launched Ariane 6 carrying AMSAT Oscar 10 into orbit and providing global ham radio satellite communications. |
Philatelic sales are always a great way of promoting a nations activities and aspirations and The Solomon Islands Philatelic Bureau was ver keen and helpful to support WCY and SIRS producing three ham radio / communications related covers: * I still have a few of these FDCs for sale - contact me if interested peter@g8bcg.org.uk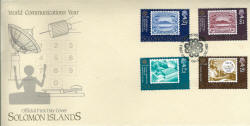 CLICK EACH TO SEE LARGER IMAGE
I have just come across an old cassette tape recording of the Solomon Islands Broadcasting Corporation Programme "Monitor" featuring the launch of the AMSAT Oscar 10 Satellite:-)
WCY SIBC MONITOR-28-06-1983

WCY SIBC MONITOR-29-06-1983

WCY SIBC MONITOR-30-06-1983

WCY SIBC MONITOR-01-07-1983